High Quality 100% Pure Honeysuckle Essential Oil
Honeysuckle is a plant which is sometimes called "woodbine", not to be confused with other plants that are known as woodbine also, as the American Ivy. Honeysuckle is native to eastern Asia and Japan. The flower, seed, and leaves are used for medicine. The scientific name for Honeysuckle is Lonicera japonica.

Honeysuckle essential oil is derived from the bright orange flowers of the honeysuckle plant, and has been used for more than 1,400 years in traditional medical practices of China. It has become a more globally known oil after the rich concentration of active compounds, antioxidants and volatile acids were discovered and researched. The uses of this oil extend past topical or inhalation applications, and include cosmetic and bath products, as well as massage oils and exfoliators. The impressive range of health benefits is caused by the rich supply of quercetin, vitamin C, potassium and other critical nutrients, as well as numerous other antioxidants.
Origin: Jiangxi, China (Mainland)
Method: steam distillation
Guaranteed Technical Specifications:
| | |
| --- | --- |
| Term | Standard |
| Color & Odor | Orange green to green brown with Characteristic, floral, sweet odor |
| Constituents & Specifications | Rhodinol, benzyl acetate, linalol, methyl anthranilate. |
| Specific Gravity | 0.922 - 0.965 @ 20°C |
| Refractive Index | 1.470 - 1.490 @ 20°C |
| Properties | Perfume, Deodorant, relaxing, sedative, warming |
Honeysuckle Essential Oil Benefits
Using honeysuckle essential oil is particularly recommended for people who wish to treat inflammatory conditions, split ends, hair loss, skin irritation, wrinkles, headaches, diabetes, chronic diseases, pain, anxiety, stress or depression.
Antioxidant Properties: Known to be packed with antioxidants, this oil has been linked to reducing the occurrence of oxidative stress and lowering free radical levels in the body. Simply inhaling this oil from a diffuser can help protect you from cancer and protect against a range of chronic diseases. This is also why honeysuckle essential is so commonly used on the skin, as it can also minimize the appearance of wrinkles and age spots, while drawing blood to the surface of the skin, promoting growth of new cells and a rejuvenated look.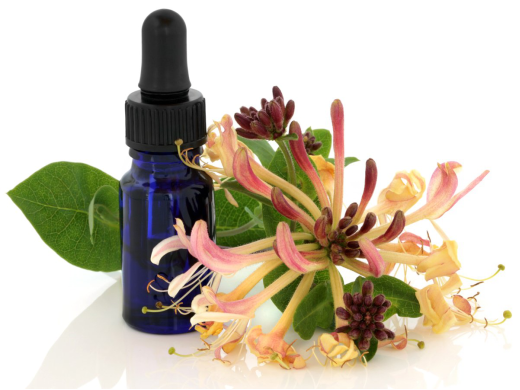 Tes: Honeysuckle essential oil has proven effects on blood sugar levels in the body, and can help to increase insulin resistance in the body. By regulating glucose and insulin levels, diabetic patients can avoid the dangerous spikes and drops in blood sugar, and can help healthy people avoid developing diabetes. Moderate use of this oil is appropriate, but it can cause hypoglycemia, and shouldn't be used without first consulting your doctor.
Headaches: The potent anti-inflammatory properties of this oil makes it ideal for soothing headaches within minutes. You can use a face steamer or an essential oil diffuser, or topically apply the oil to your temples, for calming and rapid relief from your throbbing headache.
Chronic Pain: Honeysuckle has long been known as an analgesic, dating back to its use in Chinese traditional medicine. Whether the pain is the result of a chronic illness, injury or surgery, inhaling this essential oil or adding it to your bathwater can help eliminate your pain, both inside and out.
Hair Health: There are certain rejuvenating compounds in honeysuckle essential oil that can help improve dry or brittle hair and split ends. By adding a few drops of this oil to your shampoo, you can give an extra moisturizing boost to your locks and improve the appearance of your hair from scalp to tip!
Skin Conditions and Exfoliator: Commonly included in cosmetic products, honeysuckle essential oil can soothe inflamed skin, eliminate pigmentation, and exfoliate your pores to reduce symptoms of acne. Furthermore, it can handle symptoms of eczema, psoriasis and other unsightly inflammatory skin conditions. It is also excellent for treating burns, scrapes and cuts, and protecting them from infection, thanks to its antibacterial properties.
Anxiety and Depression: As a mood stabilizer and stress reliever, honeysuckle essential oil is a popular tool for aromatherapy experts and patients. The link between aromas and the limbic system is well known, and the sweet, invigorating scent of honeysuckle is known to boost mood and prevent depressive symptoms.
Digestion: By attacking bacterial and viral pathogens, the active compounds in honeysuckle essential oil can boost the health of your gut and re-balance your microflora environment. This can lead to fewer symptoms of bloating, cramping, indigestion and constipation, while also increasing the nutrient uptake in your body.
Oral Health: Many people add a few drops of honeysuckle essential oil to their mouthwash, as the powerful antibacterial properties can help to freshen breath by eliminating pesky bacteria present between the teeth. However, only a few drops are needed, and the mixture should not be swallowed, as this can result in gastrointestinal distress.
Bath: Adding 4-5 drops of honeysuckle essential oil to your bath can fill the room with a pleasant aroma, while also easing sore and tense muscles, eliminating any bacteria present on the skin, and providing a relaxing atmosphere to clear your mind and release stress.
Room Cleaner: Diffusing honeysuckle essential oil into a room will not only sweeten the smell of your space, but also neutralize many airborne bacteria or pathogens, helping to keep your surfaces and floors clear of dangerous bacterial growth. Adding a few drops of this oil to your dust rag can also maximize the protective effects of your weekly cleaning!
Massage: Honeysuckle essential oil is a popular addition to massage oil blends, as it provides a warming, muscle-relaxing and stimulating element to the massage. Increasing blood flow to the extremities and the surface of the skin, this oil can help speed healing and eliminate toxins locked up in tense muscles.
Honeysuckle Essential Oil Uses
Honeysuckle Oil is excellent for aromatherapy and also used in scented candles.

With its use in many cleansing and detoxing blends, Honeysuckle Oil is great for removing toxins from the blood and liver.

Honeysuckle Oil is alcohol-free and a high-grade essential oil that is known for its long-lasting fragrance.

The sweet and calming fragrance of the Honeysuckle is used as an additive in many perfume body oils, skin lotions, soaps, potpourri, massage oils and bath oils.

Honeysuckle Essential Oil is well-known for bringing out erotic dreams while sleeping.

In treating sore throat, fever, skin blemishes and rashes you will find that Honeysuckle Oil has a smoother vapor appeal.

Add a few drop of Honeysuckle Oil to shampoos and conditioners to give hair a silky softness and eliminate dryness.

Try adding a few drops of Honeysuckle Oil in the bath for a relaxing sensual aroma and a calm feeling.

Just add a few drops of the Honeysuckle Oil in unscented lotions for smoother the skin.

Freshen up your house by adding a few drops in water in a sprayer and spraying moderately throughput the house giving a refresh scent and reducing odors.

Being that Honeysuckle is a natural antibiotic is used frequently to treat infections caused by staphylococcal or streptococcal bacteria.

The oil that is made from flowers is used to relieve chronic coughs, asthma and related respiratory disorders.

The flower bud parts of the Honeysuckle are used for treating different digestive disorders, but also include persistent diarrhea or chronic gastroenteritis that accompanies food poisoning and related issues.

Honeysuckle Essential Oil can be combined with other herbs such as cowslip and mulberry to create a healing tea that treats coughs and mild symptoms of asthma.

The oil and flowers can be infused to create a hot tea that acts like an expectorant.

Add a few drops of Honeysuckle Oil to your mouthwash for fresher breath, since the leaves have great astringent abilities and can beneficial when gargling.

Adding a few drops of Honeysuckle Essential Oil to your tea will make for a very effectual remedy for patients of hepatitis C, as it helps to curb the awful nausea and vomiting sensation.

*Do not use Honeysuckle Oil directly on the skin without diluting the oil, as it can cause severe sun damage. Honeysuckle does work great when applied to the skin for inflammation, itching, and it will kill germs.
Packing and Storage:
25kg/drum in plastic drum,180kg/drum in galvanized steel drum,
In sealed container, put in cool and dry place, stay away from strong light.
Our Certifications:
Factory Images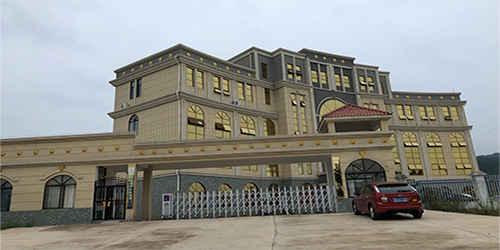 Exhibition

Our Service
1. Send your inquiries to sales02@origin-aromatics.com. You will get reply within 24 hours. For faster contact, you can call us directly by number 18770682252 (We chat number same)






2. 100% natural and pure oils, quality assurance.






3. MOQ 3000sets, OEM / ODM available.






4.Fast delivery time:

Sample order: 2days for bulk packed sample, and 7-10days for labelled and box packed samples.

Mass production: 7-15days for bulk package like 25kgs / 180kgs, and 30-40days for labelled and box packed items.






5.Payment:T/T ,L/C, DP, Western Union,Paypal,and Money gram are available.






6. Trade term: FOB / CIF / CNF are acceptable.
Packing details :