Anti-aging Rosehip essential oil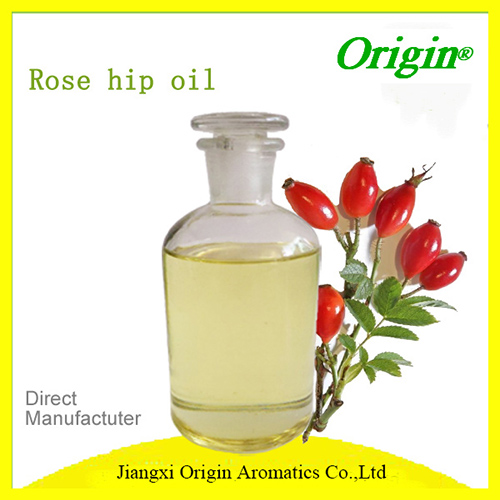 Benefits of Rosehip Oil

Daily efficacy: deeply moisturize skin, provide nutrients, prevent skin aging and dryness;Increase skin tissue vitality, avoid sagging, keep skin elastic, Tighten pores, restore dry skin to its natural luster, eliminate and reduce the formation of various skin wrinkles, such as under-eyes puffiness, eye's wrinkle, neck wrinkle; Prevent uv damage to skin and whiten skin.
Special treatment: to improve and eliminate old and new scars after trauma, such as acne holes, holes, sunburn, burn scars, scars left after surgery.Eliminate blackness and redness after skin peeling.Prevention and elimination of stretch marks;Prevent pigmentation, fade spots, fade black spots, freckles, old man spots, chloasma, eye care can eliminate dark circles, eye fat grains, meat teeth, flat warts.
Apply to all skin types to improve scar, eczema or cracked hair.
Origin: Jiangxi, China (Mainland)
Method

:

Solvent Extraction
Guaranteed Technical Specifications:
Items

Standards

Characters

Light yellow transparent liquid , with fragrance of herb

(20/20℃)

Relative density

0.915—0.9315

(20℃)

Refractive index

1.475—1.488

Iodine value(gl/100g)

145— 180

Saponification value(mgKOH/g)

185-205

Moisture and volatile matter

0.05%

Acid value(mgKOH/g)

≤1

peroxide value(meq/kg)

≤3

Assay

Acid (Omega 9) 13 - 15 %

Linoleic acid (Omega 6) 28 - 40 %

Alpha-Linolenic acid (Omega 3) 25 - 35 %
Application:
1. Skin: Hydrating,moisturizing,repairing,whitening
2. Gynaecology: Regulating menstruation,caring womb
3. Mood: Anti depression and nervousness,relaxing
4. Respiratory system: Relieving cough and other discomfort of respiratory system
Packing and Storage:
25kg/drum in plastic drum
180kg/drum in galvanized steel drum
stored in tight closed containers in a cool, dry place and keep away from direct strong sunshine.
Our Certifications:
Factory Images
EXHIBITION

Our Service
1. Send your inquiries to sales02@origin-aromatics.com. You will get reply within 24 hours. For faster contact, you can call us directly by number 18770682252 (We chat number same)






2. 100% natural and pure oils, quality assurance.






3. MOQ 3000sets, OEM / ODM available.






4.Fast delivery time:

Sample order: 2days for bulk packed sample, and 7-10days for labelled and box packed samples.

Mass production: 7-15days for bulk package like 25kgs / 180kgs, and 30-40days for labelled and box packed items.






5.Payment:T/T ,L/C, DP, Western Union,Paypal,and Money gram are available.






6. Trade term: FOB / CIF / CNF are acceptable.
Packing details :

Jiangxi Origin Aromatics Co.,Ltd
Annie Zeng
Tel:+86-0796-8998822 Mob:+86-18770682252
Email: sales01@origin-aromatics.com sales03@origin-aromatics.com
Web:www.origin-aromatics.com
ADD:QINGFENG ROAD, HEDONG INDUSTRIAL ZONE, QINGYUAN DISTRICT, JI'AN CITY, JIANGXI PROVINCE, CHINA